Environmentally friendly funerals with coffins made from sustainably sourced materials
As society has become increasingly aware of its collective impact on the environment, accordingly, people have sought to live in a more ecologically responsible way.
It's only natural, therefore, that a person's funeral should reflect their dedication to minimising environmental damage and, to that end, we offer a range of environmentally friendly coffins and caskets, to suit various budgets.
---
The Coffin Surround
This environmentally conscious solution uses a wooden surround to achieve the appearance of a conventional coffin. Housed within it is a biodegradable cardboard inner casket that both reduces costs and minimises demand on the planet's precious natural resources.
The wooden surround helps to maintain a dignified presentation throughout the funeral ceremony, before being discreetly removed prior to burial or cremation. As we keep the wooden surround, only the cardboard inner needs to be paid for.
---
The Willow Coffin
Our beautifully crafted willow coffins are handmade in the UK using traditional carpentry and weaving techniques. The only energy used in their construction comes from the basket weaver.
The willow used is known to decompose at a faster rate than the timber used in conventional coffins and uses less energy in cremation.
Each willow coffin is an elegant, bespoke creation – every inch as ceremonial as its traditional, timber counterparts.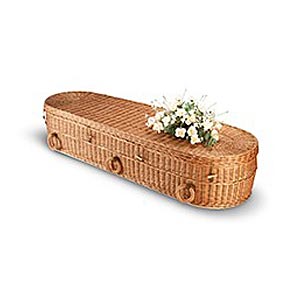 ---
The Bamboo Coffins
These coffins are crafted from a purpose-grown species of bamboo that is not eaten by pandas. The bamboo is cultivated on farms licensed by the Chinese government, and crafted into handsome, elegant caskets at responsibly managed, adult-staffed facilities.
The materials used are sustainable, fully biodegradable, and are known to decompose at a faster rate than the timber used in conventional coffins.